Class 10 – Design Fiction + Reflections
This week's class:
Watch the design fiction that our class created (cue popcorn)
Example: Team Holochef (thank you Andrea, Clayton, Annie and Rena!)
We discussed the design fiction our class created with these questions in mind:
Is the story believable?
Do you care about the characters and what happens?
Does the story have conflict (a beginning, middle and an satisfactory end)?
Does it clearly communicate the design concept?
Is the narrative persuasive? Is it interesting?
Can the average person understand the concept and empathize with why someone would choose to use this product?
Does the product have merit? (fulfills a a real need/addresses a real pain point that isn't already addressed in the marketplace)
We reflected on and then sketched:
What is one thing every designer should take with them?
(We had a mix of the analog pen/sketchbook; Don Norman; Empathy and Observation; and the handy smartphone)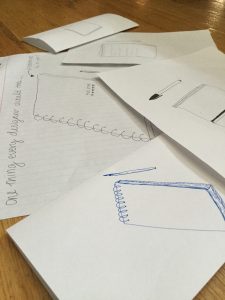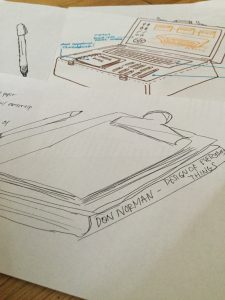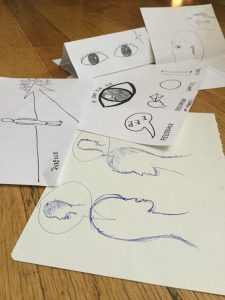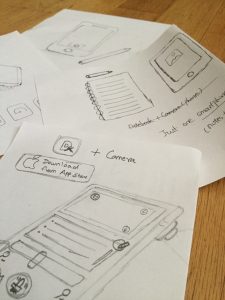 We wrapped it up by reviewing the topics we touched on (read: crammed in) this summer:
Definition(s) of design
Interaction Design
Empathy
User Observations
Design Toolkits
Conducting Heuristic Reviews
Critiquing Heuristic Reviews/design guidelines
Wayfinding/Journey Maps
Cross-channel user experiences
Assumption (throwaway) Prototyping
Human Factors and Ergonomics
Behavioral change
Qualitative user research
Play, fun and desirability
Design storytelling and iterating with stories
Design fiction/speculative design
 And reviewed the many activities we learned from:
Sorting exercise/IA
Finding analog affordances
Cube interaction
Empathy + empathy toolkits
UX journeys in physical spaces
Creating and assessing design guidelines/heuristics
Lo-fi assumption prototyping
Conducting informal user interviews
Creating research plans
Designing interventions/behavior change
Playing social games and board games
Assessing narratives/stories
Iterating stories
Creating design fiction