In this two hour workshop, we will consider if real designers ship…or do they shift?
In our agile, fail fast, launch-or-die world, we rarely have time to pause to observe or try something new. And when we do, our learning often focuses on application and solutions. We learn new tools, software and technology. But what about altering the ways in which we see, hear and explore?
We talk about "getting out of the building," but even when we do…do we really leave behind our old ways of thinking, making and working?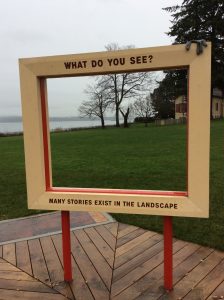 Design Velocity is a series of two hour workshops that helps you practice the art of shifting perspectives. Together we will go out and explore different ways of observing people and places and how to rapidly change our way of seeing. Think art school field trip meets gaming with a decent dash of serendipity.
We will get comfortable with embracing open-ended and ambiguously stated problems, and most importantly, how to change our perspective and swiftly ideate based on what we observe.
With a set of carefully selected prompts, and using the city as our muse, we will wander, wonder, look, play, investigate, sketch and get lost (and found). And in the process, we will displace what it means to be a designer.
What we will make:
Sketches, documents, photos, ideas, stories, conversation amongst ourselves (and sometimes with other collaborators).
What this isn't:
Boring and corporate. It's not the same old design methods and tools found in countless books, articles and conferences.
Case studies or slideshows.
Completed designs ready to ship.
Talking heads hunkered behind a podium or thought leaders wielding mikes
No software, no best practices, no mantras, no metrics.
What this is:
Hands-on doing and making. Sometimes individually and sometimes on small teams.
Learning how to respond to–and thrive on–unpredictability and improv.
Each workshop centres on a theme that's unveiled at the beginning. We then complete a set of prompts/exercises/quests outside. At the end, we meet as a group to share and discuss.
Each workshop runs 2 hours and is organized/facilitated by a guide.
Each is a standalone workshop. You're welcome to join as many (or as few) workshops as you like.
Space is limited to 15 people total.
Who this workshop is for:
Category defiers who love different disciplines crashing and melding.
Anyone with an affinity for the analog and experimentation.
Creative spirits.